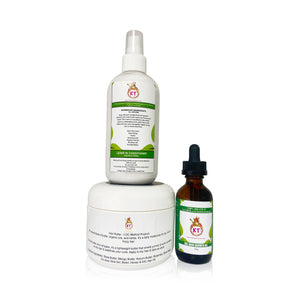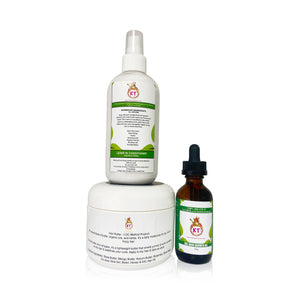 On Sale
LOC Moistuizer Trio
Paraben Free | Sulfate Free | Curelty Free | Non-Gmo



100% PLANT BASED | FOR ALL HAIR TYPES | 8oz
Works wonders on Dry, Frizzy or Damaged hair
HANDMADE WITH LOVE
 This collections includes Leave-In Conditioner Spray, Hair Butter and XXL Boom Oil. The Natural blends of organic oils, butters and herbs. It's a daily Moisturizer for dry, dull or frizzy hair. These three scents create a sweet and herbal aroma. 
Leave in Conditioner

- Aloe Vera juice, rosemary oil, biotin, honey, peppermint oil, rice bran oil, purified water
XXL Hair Boom Oil

-

Golden jojoba oil, hemp seed oil, tea tree oil, orange bitter oil, peppermint supreme oil, neem oil, olive oil, ginger root, thyme, rosemary, chamomile oil, basil, argon, sweet almond oil, aloe Vera oil, ginseng, stinging nettle, saw palmetto, biotin black tea oil, grape seed oil, dandelion, amla, lavender oil, lemongrass oil +
Hair Butte

r - Rosemary oil, coconut oil, Shea butter, black seed oil, avocado oil, cocoa butter, mango butter, bay leaf oil, lavender, black castor oil, Kokum butter, biotin nettle
Enjoy the best handpicked Hair Growth enhancer oils! 
XXL Boom Oil -  Apply the hair oil on damp or dry hair, first massage scalp for 2 to 3 minutes, then apply oil to your scalp, edges, bald spot(s), and/or thinning areas once a day (night time is best) 




Hair Butter and Leave-in Conditioner - The best use of this product is on wet hair, it acts a heat protectant for blow dry and straight hair. (twist out, wash N go, dread locs, braids, etc) Section hair in 2-8 sections, apply product from the root of the hair to the end of the hair. lightly comb the product throughout the hair and style. 
This will leave your hair soft and manageable.  
ARE YOU EXPERIENCING? 
Hair loss? Slow growing hair? Missing Edges? Hair loss from weaves, wigs, or braids? Pregnancy hair loss? Hormonal Hair Loss? Stress Loss? Dandruff? Itchy Scalp?

DRY HAIR? BREAKAGE? FRIZZY HAIR? NO CURL PATTERN? MATTE HAIR?