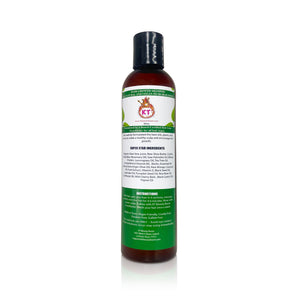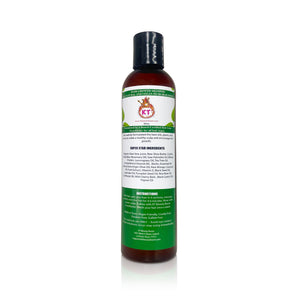 On Sale
Nourishing Vegan Shampoo
Paraben Free | Sulfate Free | Curelty Free | Non-Gmo



100% Vegan | FOR ALL HAIR TYPES
HANDMADE WITH LOVE
Discover our handcrafted, highly nourishing vegan SHAMPOO that's made with our hair growth oils and herbs to stregnthen, hydrate, and balance the PH in all hair types.
Shampoo-

Organic aloe vera leaf juice, Keratin, Rosemary oil, Raw shea butter, Castle soap base, Rosemary oil, Saw Palmetto Oil, Wheat protien, Lemongrass Oil, Tea Tree Oil, Di-Panthenol-Vitamin B5, Biotin, Essential Oil Blend, Extra Virgin Olive Oil, Raw Mongo, Coconut Oil, Fruit Extract, Vitamin E, Black Seed Oil, Lavender Oil, Pumpkin Seed Oil, Rice Bran Oil, Sunflower Oil, White Cherry Bark,  Thyme oil, Black seed oil, Jamaican black caster oil, Cedar wood oil. 
1st cleanse hair with KTBeautyBoom Shampoo then Part your hair in 4 sections, massage evenly unto the hair for 4-6 minutes, rinse with cool to warm water. Follow with the KT Beauty Boom Conditioner. Wash hair once or twice a week. 
TIP: Leave conditioner on hair for 30 minutes - 1 hour, rinse with cool water. (add Plastic cap for intensity).
ARE YOU EXPERIENCING?  
Dry hair?  Winter hair? Eczema in scalp? Psoriasis in scalp? scalp irritations? Hair loss? thinning hair? Ingrown Hairs? Shedding? 


This is the right product for you